Christy Mahon's Favorite Ski Gear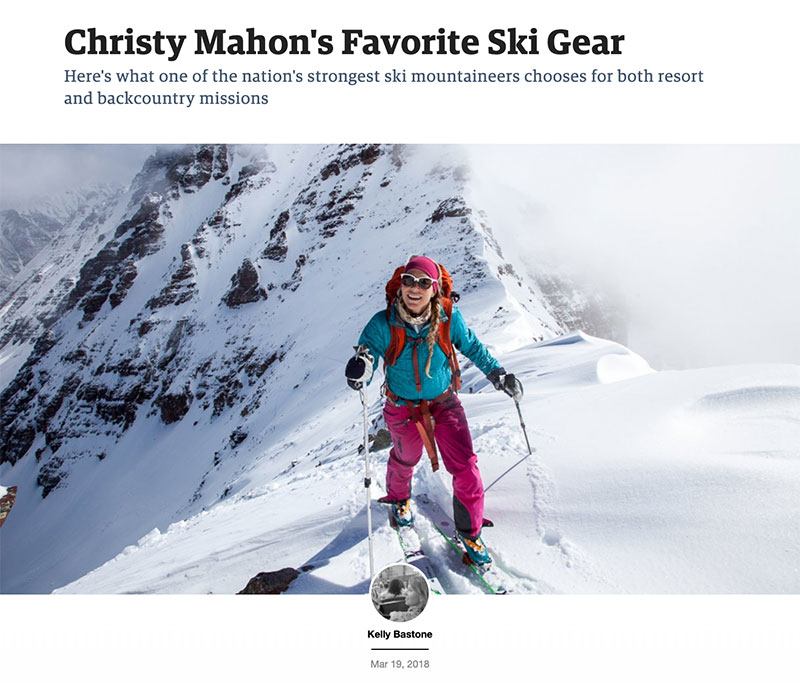 I spoke with Outside Online about ski gear and what I use when I'm out in the backcountry. A pretty simple piece but relevant to me because it's the actual gear I really use when I go out in the mountains. Take a look.
Christy Mahon rips. In 2010, the Aspen-based mountaineer became the first woman to ski all 53 of Colorado's 14,000-foot peaks. Then she teamed up with two other pros—Chris Davenport and her husband, Ted Mahon—to climb and ski Colorado's 100 highest mountains. That feat won them a nomination for National Geographic's Adventurer of the Year award.
Stio and Kästle are among Mahon's sponsors, but she fits her training around a nine-to-five job at the Aspen Center for Environmental Studies. Her predawn workouts include skinning up 3,200-foot Aspen Mountain. And the weekend? That's when Mahon logs some of the Aspen area's most committing climbs and scouts new lines on her state's 12,000- to 13,000-foot peaks.
This is what she brings.